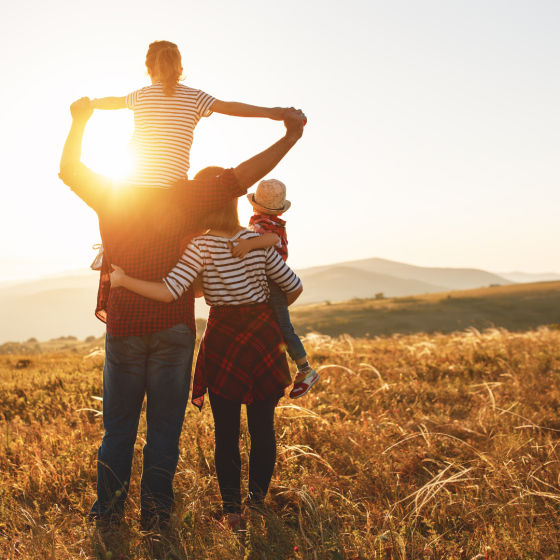 The Gift of Health and Wellbeing: Transform Father's Day with Ayurvedic, Clean Beauty Hair and Skin Care Products
When we think of Father's Day, we often conjure up images of classic ties, gourmet coffee, or the latest tech gadgets. But this year, we invite you to celebrate a little differently, a little more thoughtfully. Welcome to the world of Ayurveda-infused, clean beauty hair and skin care products for thoughtful and health-promoting Father's Day gifts!
Why are health and clean beauty the ideal gifts?
Because gifting health transcends beyond the physical act of giving; it showcases an unspoken understanding of the importance of holistic wellbeing. It says that you value your father's health and happiness above all.
Gifting health is a promise of longevity, wellbeing, and vitality. When you present a skincare or hair care product that's formulated with natural ingredients, you are gifting something that can improve their quality of life every single day. More than just a product, it's a daily reminder of your love and concern for your father's health. A thoughtfully chosen health-centric gift becomes an emotional, caring gesture that resonates more deeply than any materialistic item ever could.
As society becomes more health-conscious, it's important to extend this consciousness to every aspect of our lives, including the products we use on our bodies. Many conventional products contain harmful chemicals that can be detrimental to our wellbeing in the long run. By choosing to gift natural, Ayurvedic, and clean beauty products, you're making a statement about your commitment to health and sustainability.
It's a step towards embracing a healthier, cleaner lifestyle, and there's no better way to introduce this change than through a gift to someone you deeply care for. It is a way to bring back the balance in life, encourage self-care, and promote the importance of health and wellness.
Why Men Skin and Hair Care Matter?
Contrary to popular belief, men's skin and hair care are just as important as women's. Just like women, men are also exposed to harmful environmental factors like pollution, sun damage, and lifestyle stressors, all of which can take a toll on their skin and hair health. Hair loss, early greying, skin aging, acne, sun damage - these are all common problems faced by men. However, the market for men's grooming products has often been filled with synthetic, chemical-laden options. The beauty and wellness of men's hair and skin deserve the gentleness of nature and the potency of Ayurveda.
The Gift they Deserve!
Therefore, this Father's Day, it's time to shift our focus towards men's hair and skin care, to appreciate that fathers too need that extra bit of pampering and care. Gifting your father Ayurvedic and natural hair and skin care products will not only help him address his grooming needs but also introduce him to a healthier, more sustainable way of living. Father's Day is not just about celebrating fathers; it's about showing them how much they mean to us and how much we care about them. It's about acknowledging their efforts, sacrifices, and love.
And what could be a better way of showing this love than giving them the gift of health and wellness? This year, let's make Father's Day not just memorable, but also meaningful with UrbanMuni. Because when it comes to the wellbeing of our loved ones, every gesture counts.
At UrbanMuni, we take pride in being a trusted online marketplace for safe, non-toxic, sulphate-free, paraben-free, and cruelty-free products. Guided by the timeless wisdom of Ayurveda and harnessed by modern science, we've curated a range of products that aren't just friendly to your skin and hair, but also to the environment. Buying from UrbanMuni is a smooth and effortless process. Our user-friendly website is designed keeping our customers' convenience in mind. You can browse through our range of products, read detailed descriptions, view product images, and make an informed decision before purchasing.
Navigating through the range of men's hair and skincare products can be challenging, but UrbanMuni makes it effortless. Let's delve deeper into the products that are carefully picked for their synergistic effects and health benefits:
1. WOW Skin Science Onion Black Seed Hair Oil with Comb:
A powerhouse of nourishment and growth, this hair oil is packed with nature's goodness. Infused with onion black seed oil, it breathes life into dull hair, promoting healthier, shinier locks. Its high levels of essential oils nourish the hair follicles and speed up hair growth. If your father is dealing with hair fall or premature greying, this hair oil is a thoughtful and beneficial gift.
https://www.urbanmuni.com/product-detail/wow-skin-science-onion-black-seed-hair-oil-with-comb-100ml-2551
2. WOW Skin Science Vitamin C Face Wash:
Brimming with the antioxidant properties of Vitamin C, this face wash rejuvenates the skin by cleansing it of impurities and environmental pollutants. It reduces signs of aging, enhances skin radiance, and leaves the skin feeling soft and supple. If your father's skin seems dull or tired, this face wash can offer a burst of freshness and vibrancy.
https://www.urbanmuni.com/product-detail/wow-skin-science-vitamin-c-face-wash100-ml-1987
3. Onion Shampoo with Onion and Plant Keratin for Hair Fall Control:
This shampoo is a potent blend of onion extract and plant keratin that reduces hair fall and ensures robust, shiny hair. Onion, rich in sulfur, boosts hair growth, while plant keratin maintains the hair's natural moisture and restores its strength and elasticity. If your father is struggling with thinning hair, this shampoo would be an ideal solution.
https://www.urbanmuni.com/product-detail/onion-shampoo-with-onion-and-plant-keratin-for-hair-fall-control-250ml-2227
4. Ubtan Face Wash with Turmeric and Saffron for Tan Removal:
This face wash draws on the age-old Ayurvedic recipe of 'Ubtan' for its skin-enhancing properties. The powerful combination of turmeric and saffron helps lighten skin tone, reduce dark spots, and keep the skin looking fresh and radiant. If your father's skin shows signs of tan or uneven pigmentation, this face wash can help restore its natural glow.
https://www.urbanmuni.com/product-detail/ubtan-face-wash-with-turmeric-and-saffron-for-tan-removal-100ml-2241
5. Ubtan Oil-Free Face Moisturizer with Turmeric and Saffron for Skin Brightening:
A perfect finish to any skincare routine, this oil-free moisturizer hydrates the skin and brightens the complexion. Its lightweight formula, enriched with the goodness of turmeric and saffron, penetrates deep into the skin, making it glow with health. Suitable for all skin types, this moisturizer is a great choice if your father has dry or dull skin.
https://www.urbanmuni.com/product-detail/ubtan-oil-free-face-moisturizer-with-turmeric-and-saffron-for-skin-brightening-80-ml-2251
These individual products cater to various skin and hair care needs, making them an excellent choice for thoughtful and healthful gifts. This Father's Day, show your father how much you care by gifting him the promise of natural, Ayurvedic care and the experience of holistic well-being with UrbanMuni.
We believe that every father deserves to feel special, loved, and cared for. This Father's Day, make your father feel truly special by giving him the gift of health and wellbeing with UrbanMuni. Here's to celebrating our fathers in the most meaningful way!